Clayton MO's Premier Bathroom Remodel Company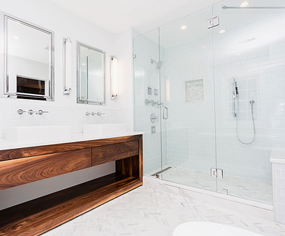 The bathroom is an important room. If your bathroom isn't up to par, is cramped or outdated, doesn't fit your family needs or otherwise isn't good enough, that can make meeting societal expectations difficult.
No, don't resort to sink bathing ... you're too old for that. Instead, come to More for Less Remodeling, where we offer professional bathroom remodel services at an affordable price. Our goal is to make sure you get the room you want, without draining your bank account or dealing with extensive project completion times. Want a quick, cost-efficient new bathroom? You've found the company for the job!
---
The Modern Bathroom, from Us to You
Bathrooms have changed considerably throughout the course of human history. In the last hundred years or so (we won't even go into what they were like even earlier), they have become more expansive, comfortable, and beautiful than ever before. Today, you need your bathroom to shine so you and your family can get ready for the day and relax in the evening.
These factors should heavily influence the designer you choose because they must be able to accommodate all your specific needs. Here at More for Less, we never use a one-size-fits-all model or try to sell you a redesign straight out of the box. Instead, we work with you to find exactly what you need.
---
Comprehensive High-End Bathroom Renovation Services
You don't just want a "new" bathroom, you want a room of which you can be proud. A room you can happily show to guests, a room in which you can relax with a candle and a good book. Your bathroom should be a place of serenity and beauty, all while maintaining the look and style of the rest of your home. Here at More for Less Remodeling, we specialize in a comprehensive list of services for complete bathroom renovations so that we can help you achieve your goals.
Before we can transform your bathroom into something elegant, though, you need to ask yourself a few questions:
Who will be using the bathroom: kids, grownups, guys, gals, grandmas, etc.?
Where in the house is it located, and which rooms must it go with?
What is the size of your bathroom?
Will you be making your bathroom bigger, or is it going to stay the same size?
These questions will impact your final design, the cost of the remodel and the time it will take to finish your bathroom. We like to ask these questions up-front so that you don't discover surprises down the line. Our approach is always to ensure you're getting what you need, that the project doesn't go over your bid and finishes in the proposed timeline, and that you love your new room long into the future.
---
If you're curious about what that partnership can be like, we invite you to get in touch with us and find out. We're always happy to chat over the phone, reply to your emails and share a cup of coffee here at our office in St. Louis. Don't hesitate to reach out today!