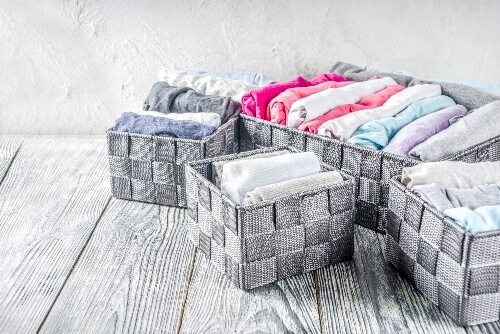 With the stay at home orders for Missouri residents and businesses, everything has slowed down. Kids are home from school. Many adults are working from home or not working (joining the record numbers of people filing for unemployment). If you are staying mostly at home right now, you might have had a chance to look around at your home more closely and see some things to fix up.
Though the bigger projects may need to wait, now is a great time to spruce up your home. Follow our top four tips below to give your home some freshening up.
#1 Bring Order to Your Storage
We don't always have time to be the best organizers. If your closets get clothes, papers, or other things shoved in before slamming the door to keep everything inside, now is the time to clean that out. Sort any clothes or papers into stacks and files. Bag up clothes to be donated or given to friends and family. Throw out things you haven't used in a while.
With the nicer weather, check in on your garage. Sweep out the winter dust and debris before using the sunny daylight to put a dent in the piles.
#2 Switch Things Up by Rearranging Your Furniture
Freshen up your living room or bedrooms by switching where your furniture is. Moving the furniture around can have a big impact on how comfortable you feel in your home. You might have realized you need more space in one area than you usually do. Make that space now! Try to choose one focus point (such as where the TV goes) and then arrange the furniture around that.
#3 Add Memories to Your Walls with Pictures
Remembering friends and loved ones when we can't see them in person has become even more important. Take some time with your family or roommates to dig through old photos and spend time talking through the memories they bring up. Then, use those old photos to decorate your walls. If you don't have or can't get picture frames right now, just throw some masking tape on the back and switch them out later.
#4 Stay Fit with a Home Gym
Exercise is a great way to stay sane at any time. Now that we can't go to the gym, make one at home! Right now, that might just be setting up an area in a room for you to get sweaty. Mats for yoga or stretching help. If you don't have any weights, start with bodyweight exercises. If you end up liking having a home gym, you could get a more serious renovation when businesses open back up.
Get Your Renovation Project Done with More for Less Remodeling
We have closed for the time being to help protect our clients and our employees. When it is safe to return to work, More for Less Remodeling will be there for your renovation and remodeling needs. Stay under your budget and get great results when you partner with us.