A Trusted Basement Finishing & Remodeling Contractor Serving Metro St. Louis
---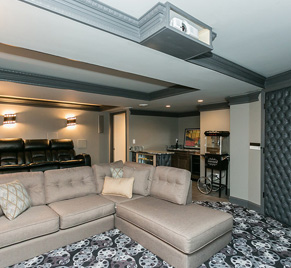 Transform your basement into the dream room you and your family deserve! Have you envisioned the perfect additional bedroom, an entertainment room or a 'man cave,' -but haven't made the first step? We can help!
At More For Less Remodeling, our basement finishing and renovation team offers free consultations where we discuss your goals and develop a plan that fits your needs and budget. From making basic updates to an existing basement finishing job, to completely transforming a bare, dingy basement into a luxury living room, we have you covered!
I trust these guys because they're honest, fair, stay on schedule, and always do excellent work. I know the job will be done right the first time and if I do have any problems Chris and his guys go out of their way to make sure I'm 100% happy with the results.* David S.
Why Remodel Your Basement?
The top five reasons a basement renovation from More For Less is a smart choice for your home:
The Affordable Option for Extra Space –

Instead of building an expensive home addition, why not make the most of the space you already have! Additionally, basement finishing and remodeling often starts as a blank slate, saving you money on tear-out and disposal costs.

Say Goodbye to Moisture, Mold & Water –

Does your home struggle with moisture issues? Our basement renovation contractors can address areas where water is entering your home and ensure that when we're done with your remodel, the newly-transformed basement is waterproof.

Add Impressive Value –

When it comes to Return On Investment (ROI), nothing beats a basement renovation. A definite way to increase the value of your home, the cost of your basement remodel can be largely recouped at the time of sale.

Reduce Energy Costs –

Unfinished basements are often poorly insulated and a huge source of air leaks. During a basement remodel, we can install highly-efficient windows and insulation designed to save you money on your utility costs for years to come.

A Unique Potential for Privacy & Flexibility -

Remodeling a basement offers a private space separated from the rest of the home where you can create whatever type of space you need, without the high costs!
---

To schedule your free design consultation and estimate, contact the experts at More For Less Remodeling today! We look forward to creating the kitchen of your dreams.