A Trusted Basement Finishing & Remodeling Contractor Serving Metro St. Louis
---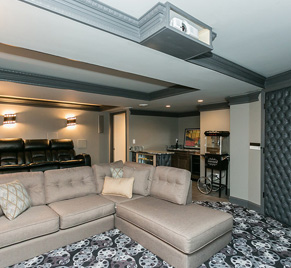 Transform your basement into the dream room you and your family deserve! Have you envisioned the perfect additional living space, gym, theater, room, or bar - but haven't made the first step? We can help!
After you've been through the virtual quote process, we discuss your goals and develop a floor plan that fits your needs. We will completely transform a bare, dingy basement into a luxury living space!
Why Remodel Your Basement?
The top five reasons a basement renovation from More For Less is a smart choice for your home:
The Affordable Option for Extra Space –

Instead of building an expensive home addition, why not make the most of the space you already have! Additionally, basement finishing and remodeling often starts as a blank slate, saving you money on tear-out and disposal costs.

Say Goodbye to Moisture, Mold & Water –

Does your home struggle with moisture issues? Our basement renovation contractors can address areas where water is entering your home and ensure that when we're done with your remodel, the newly-transformed basement is waterproof.

Add Impressive Value –

When it comes to Return On Investment (ROI), nothing beats a basement renovation. A definite way to increase the value of your home, the cost of your basement remodel can be largely recouped at the time of sale.

Reduce Energy Costs –

Unfinished basements are often poorly insulated and a huge source of air leaks. During a basement remodel, we can install highly-efficient windows and insulation designed to save you money on your utility costs for years to come.

A Unique Potential for Privacy & Flexibility -

Remodeling a basement offers a private space separated from the rest of the home where you can create whatever type of space you need, without the high costs!
Basement Remodeling Contractors
At one point, every homeowner finds that they need more space—but where do you find extra storage room in a home you've exceeded max capacity? You can push outward and build an addition—considering you have the extra acreage to do so—spending a ton of money in the process. Instead, consider renovating your basement for a much cheaper cost.
For most homeowners, the basement is nothing more than a lost space for storage or for essential services such as the furnace and water heater. You shouldn't waste that space. There is no reason you cannot clear the junk and build a cozy family room, media room, auxiliary bedroom, gym, or whatever you'd like.
First of all, you will need to take into account some basics before turning your basement into a livable space.
Get Moisture Under Control:
Basement finishing is usually all about moisture. If you can successfully manage the moisture, you can build practically anything in the basement. However, if you have significant moisture, you may not even be able to finish your basement. More for Less Remodeling will inspect first to make sure we can remodel your basement.
Because of their unique nature, basements are not for every use. Basements tend to be cold, dark, and insular. At More for Less Remodeling, we will take care of your basement to make sure that we are able to follow your remodeling basement plans. We could make it a movie room, spare bedroom, guest room, etc.
Prioritize Wall System Planning
Walls are installed in basements for a few reasons: they make the space more aesthetically pleasing, easier to run electrical wires, and provide spaces to install receptacles while also enhancing temperature control. Prioritizing your wall system for a basement remodel will allow you to determine how the space should be laid out and how many rooms, if any, you can place in the available square footage.
Develop an Electrical Plan
When finishing your basement, you must provide a certain number of electrical outlets to comply with electrical code. Additionally, having a proper electrical plan helps you know everything has been installed properly and there are enough electrical outlets to support any new technology placed in the basement without blowing a fuse.
Plan Heating and Cooling in Advance
Due to a basement's natural musty and damp atmosphere, it's important to plan your heating and cooling systems in advance. Most homes' basements will need some type of supplemental heating and cooling system to ensure proper circulation.
Create an Effective Lighting Plan
Most basements have minimal lighting. Because basements cannot rely on natural light, plan for more artificial lighting than you think you'll need.
Basement Remodeling Services
At More for Less Remodeling, we offer the best basement remodeling in St. Louis. Basement Remodeling not only will give you more space, but also improves your property's value. When you choose More For Less Remodeling as your basement contractor, we will offer professional and exceptional home remodeling services that meet and go beyond your expectations.
We put your needs first and strive to provide exceptional and timely services while remaining truthful to your budget. If you're ready to upgrade your basement, feel free to contact us and schedule a free consultation.
Whether you want to create an additional storage space, build an entertaining room, or expand the kids' play area, we are a reputable remodeling company you can trust to bring your dreams to a perfect reality.
Our team is passionate and committed to helping homeowners across Missouri transform a less functional basement into a fantastic space that can serve different functions.
Transform your Basement
Are you getting the most out of your basement? You may think of your basement as simply a place to store unwanted items—that winter coat you only dig out once a year, boxes of old toys or photo albums—but it doesn't have to be that way. Upgrade your basement and transform that space into something useful for you and your family.
We specialize in remodeling basements, changing them from wasted space to rooms homeowners can use for entertaining, additional bedroom space for in-laws and guests, or anything else you can imagine.
For many, the basement is a little more than the place where the water heater is stored—it's an unwelcoming space that houses items that are rarely used but you can't seem to part with yet.
With More for Less Remodeling's basement remodeling services, your basement can be transformed into whatever you want. Whether you've dreamed of installing the perfect entertainment system, or are looking for the best place for your home office, we can help get you there.
Best Basement Remodel Ideas
Office Room
Art Studio
Entertainment Area
Storage Space
Game Room
Cinema Room
Gym
---

We start our process with a free virtual quote, from there you can schedule a In Home Consultation where we go into detail of your project. Contact the experts at More For Less Remodeling today!
We're Located in & Serving the St. Louis, MO Area