---
Luxurious Home Office Remodelsin St. Louis, MO
---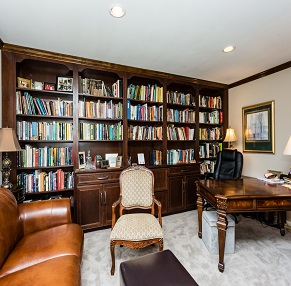 Not having to go into the office is a blessing, especially when you can work remotely in a luxurious home office. Studies have shown that remote workers are more productive than those working out of an office, and that a well-designed office increases worker productivity. So if you want to be the most productive worker possible, why not work from an elegant and comfortable home office?
At More for Less Remodeling, we can improve any room in your house, including your home office! And while we may specialize in kitchens, basements, and bathrooms, we know plenty of tips and tricks to give you the home office that will allow you to work confidently, comfortably, and productively.
Have Your Home Office Reflect Your Personality
When we're in our own environment, we tend to be in our most comfortable setting. Your home office should be comfortable and align with what makes you relaxed and focused So when designing your home office, it's important to remember that it's your workspace. You should have one that fits for you.
If you work better with music, add a stereo in your office. If you're someone who doesn't like distractions, avoid things like radios, TVs, or anything else that can cause you to lose focus. Choose colors for the walls, floors, and furniture that reflect your personality. Add the furniture you enjoy, even if it isn't typically found in an office. Whatever design choices you make, your home office should be a place where you can be relaxed and productive.
Allow Natural Light into Your Home Office
If you're deciding what room you want your home office to be located in or even a home addition that includes an office, consider choosing the room with the most windows. Many studies have shown that natural light increases energy and alertness, increasing productivity. Add a sentence here.
Note: Plan Around Sunlight
Remember that increased natural light could also lead to glare from sunlight. So when arraigning your furniture around the room, arrange it to block any glare while also giving you natural light.
Focus on Organization
The less clutter there is, the more productive you can be. When deciding what furniture to put in your home office, knowing how much space you'll need for organization is important. This could influence your choice of desk, including file cabinets or even hanging up a pinboard for your wall.
Don't go overboard, or it may be difficult to find important documents. That said, it's better to have too much storage space than a cluttered, messy desk. Think about how much space you'll need, and plan accordingly.
Technology Integration in Your Home Office
Think about what devices you're going to use during work. Do you need WiFi? Access to multiple outlets? When choosing a room for your home office, consider these factors. You don't want to place your furniture only to find insufficient electrical outlets to support your computer, phone, printer, and scanner. Furthermore, what if the room you chose is far from your ethernet hook-up and the WiFi is poor?
You can't be productive if your tools aren't working properly. Consider what devices you'll need in your home office and where they'll be located. Is this setup going to function for you? Will it fit your needs? If not, you'll have to consider a different room or home office design.
Contact St. Louis's Premier Home Remodeling Company
We're ready to provide you with a proper, professional, and comfortable work environment in your home. Contact us today and speak to a remodeling professional to get started on your new home office.
---

We start our process with a free virtual quote; from there you can schedule an In-Home Consultation where we go into detail about your project. Contact the experts at More For Less Remodeling today!
We're Located in and serving the St. Louis, MO, Area