Create Your Perfect Personal Space with St. Louis, MO's Bathroom Remodeling Experts
---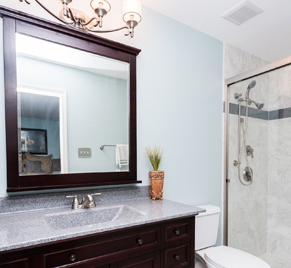 Bathrooms serve an important function in any home, and more than any room in the house, you need each fixture and element to work perfectly during your daily routine. But, there's more to the bathroom than just making sure everything is working properly. When designed by a bathroom remodeling expert, your bathroom can be a great place to relax, experience some privacy and enjoy your leisure time.
Your bathroom should look just as beautiful and inviting as every other room in your home! And, with help from More For Less Remodeling, we can accomplish just that. Our experienced bathroom design team can conduct an on-site assessment of your home and take the time to get to know your vision. From there, we can work together to create a beautiful bathroom design that fits your needs and budget!
As a Turn-Key Service Provider, We Can Handle All Aspects of Your Bathroom Remodeling Project
Flooring: Tile, Vinyl, Cork, Laminate, Wood
Sink & Toilet Fixtures
General Plumbing & Electrical
Custom Vanities
Medicine Cabinets & Hutches
Glass Shower Enclosures
Standalone & Traditional Tubs
Lighting
And More!
We Pride Ourselves on Excellent Communication, Reliable Scheduling & Amazing Results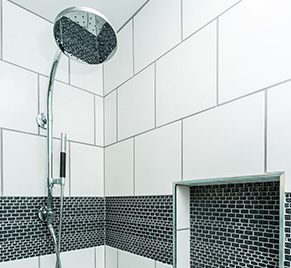 There's nothing more frustrating than a contractor who is difficult to get ahold of or always behind schedule. That's why we always go the extra mile to anticipate your needs and ensure that you are always kept in the loop on our progress and timeline. Our customers count on us to make sure their bathroom remodeling project is as smooth and hassle-free as possible. With our attention-to-detail, exceptional project management team and commitment to quality customer service, you can rest assured that you'll be enjoying your new bathroom in no time!
---

To We start our process with a free virtual quote, from there you can schedule a In Home Consultation where we go into detail of your project. Contact the experts at More For Less Remodeling today!
We're Located in & Serving the St. Louis, MO Area