Originally published 06/17/2019. Last updated 05/20/2023.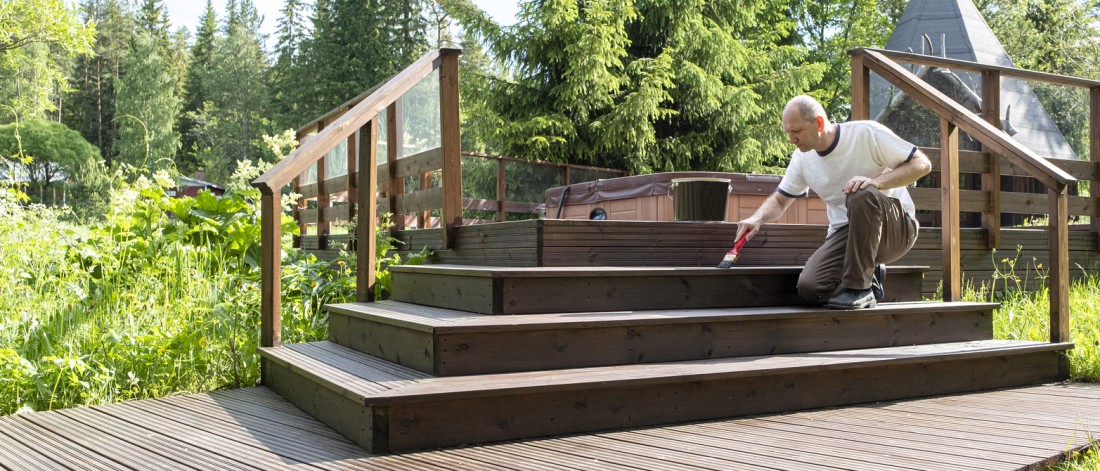 Summer is finally here, bringing with it sunshine, warmth, and endless possibilities for home renovations. With longer days and open schedules, it's the ideal time to tackle those long-awaited home improvement projects.
Do you want to enhance your living space, increase functionality, or freshen up the ambiance? Summer is a great time to start! We've curated a list of four exciting and rewarding home projects for you to consider this summer.
1. Create an Outdoor Oasis
Take advantage of the summer weather by revamping your outdoor living space. Create a comfortable and inviting area for entertaining family and friends. Consider some of the following home improvement ideas:
Add a patio, deck, or pergola to enhance your outdoor experience
Install outdoor lighting to extend the usability of your space into the evening
Incorporate landscaping elements such as flower beds, shrubs, or a vegetable garden to add beauty and functionality
Invest in outdoor furniture and accessories that are durable and weather-resistant
Personalize your outdoor oasis with decorative elements like rugs, cushions, and outdoor artwork
By revamping your outdoor living space, you can make the most of the warm summer months. It's a perfect time to enjoy the beauty of nature right in your own backyard. Whether you're hosting a barbecue or relaxing with a good book, an upgraded outdoor area provides your home with a serene and enjoyable retreat.
2. Embrace Natural Light
With longer daylight hours, summer presents an excellent opportunity to focus on improving your home's lighting. Consider upgrading your windows to maximize natural light, increase energy efficiency, and enhance the overall ambiance of your living spaces. Ample sunlight creates a cheerful and inviting atmosphere.
Plus, natural light helps you make better choices when it comes to selecting paint colors and other design elements, such as light fixtures. Basking in the glow of the summer sun, you'll find it easier to envision and execute your renovation plans.
3. Update The Kitchen
Add value to your home with a beautiful kitchen remodel. Summer is an excellent time to embark on a kitchen remodel, one of the most popular home improvement projects. With longer days and the ability to enjoy meals outside, a kitchen renovation can be a fun and rewarding endeavor.
By setting up a temporary outdoor kitchen, you can save money on eating out and make the most of the warm weather. Whether you're grilling delicious meals or preparing sandwiches on the patio, the flexibility of outdoor dining adds a touch of excitement to your daily routine.
From upgrading your hardwood flooring to new fixtures, a kitchen remodel in summer is a functional upgrade that provides a great return on investment for your home.
4. Invest in Your Home Office
By dedicating some time to revamp your home office, you can enhance productivity and overall well-being. Take advantage of the longer days and natural light to create a bright and airy atmosphere.
Consider decluttering your workspace, organizing files, and investing in ergonomic furniture to optimize comfort and efficiency. Incorporate elements of nature, such as indoor plants, to add a touch of freshness and promote a calming environment.
Whether you're repainting the walls, upgrading your desk, or adding storage solutions, a summer home office renovation will transform your space into a motivating sanctuary where you can accomplish tasks with ease and enjoy a seamless work-life balance.
Trusted Home Improvement Tips From Our Pros
Roll up your sleeves, let your imagination run wild, and turn your home into a haven of beauty and functionality this summer.
Easily Ensure Proper Ventilation
Undertaking indoor construction projects during colder months can lead to ventilation issues. Lingering dust, odors, and moisture can become trapped inside, potentially causing damage and requiring expensive repairs down the line.
However, summer offers a solution to this problem with its natural ventilation opportunities. Don't be afraid to lower the air conditioning and open some windows. By opening windows and doors, you can effectively rid your home of unwanted particles and create a fresh, airy environment for your renovation project. This not only ensures a seamless and hassle-free process but also promotes a healthier living space for you and your family.
Capitalize on Open Schedules & Involve the Whole Family
Summer break means the kids are out of school, sports activities are on hold, and schedules are more relaxed. Take advantage of this open window of time and involve your family in your DIY home projects. Let the kids help pressure wash the driveway or decorate the front door. Engaging your children in age-appropriate tasks can be a fun and educational experience for everyone.
From painting walls to organizing belongings, getting the whole family involved not only lightens the workload but also creates lasting memories. Or, consider scheduling your renovation during a family vacation, returning to a fresh and transformed home.
Embrace the warmth of the season, unleash your creativity, and transform your home into a haven that reflects your unique taste and lifestyle.
Call More For Less Remodeling Today!
In conclusion, summer presents the perfect opportunity to embark on home renovation projects that combine fun, productivity, and creativity. From creating an outdoor oasis with a kitchen remodel to embracing natural light and involving your family, there are countless ways to make the most of the warm weather and open schedules.
When it comes to summer home renovations, More For Less Remodeling is here to assist you every step of the way. Our team of construction and design experts is dedicated to helping you transform your kitchen, bathroom, basement, or bedroom into the space you've always dreamed of.
Don't hesitate to reach out and schedule an appointment with us today!