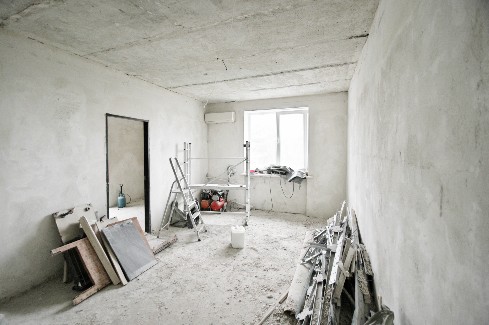 With the Halloween decorations put away, we are quickly moving toward winter. Gone are the spring and summer months with their warmth that makes outdoor home projects and renovations easier. But don't think that means you can take a break over the winter! There are several home renovation options for you to explore during the colder months. Keep reading to learn about five home remodeling ideas for you to explore this winter.
1. Put some time into the flooring
Take your floors up a level by pulling up your old carpeting, updating your hardwood areas, or replacing tiling work. Though your house may be more crowded during the winter, this is a great time to make sure your floors can keep up with the heavy foot traffic. Make your weekly cleaning a breeze by choosing the easily cleaned vinyl tiles or sealing your hardwood floors with one more layer of sealant.
2. Bathroom ideas for safety and comfort
There are several small projects in the background you can do that will have a significant impact on your safety and comfort. Start with upgrading your vanities, shower stalls, or fixtures. Adding a bathtub with jets or a steam feature will create the possibility for a home spa day. Consider adding handrails or shower seats for extra bathroom safety for seniors.
3. Basement remodeling to expand your living space
Instead of doing work outside, stay warm inside. Contractors will be safer and warmer working in your basement than they would in outdoor areas - that might even help move your project along. Take this time to turn your cold basement into an insulated, cozy place to relax. Choose between all sorts of themes for your basement remodeling, including a playroom, additional living room, home gym, or more. No matter what you do down there, you will add to your house's value.
4. Give a facelift with a fresh paint job
Now is the right time to go through and patch up chipping areas or try out new colors. As your family grows and changes, your color themes may need to adapt. Touch up trouble spots or go for a new theme.
5. Create a quiet office area
Did you recently have kids move out? Is there a room you don't use very often? Consider turning it into a home office. Many companies now offer work from home options. Even if yours doesn't, this can still be a quiet place to store medical and other essential documents and to handle bills. Built-in shelving or cabinets can help you organize your space.
Getting the best from your home this winter
Though nature is shutting down for the season outside, you don't need to leave things as they are. Partner with a professional contractor, such as those at More For Less Remodeling, to get the most from your home. We do basement, kitchen, bathroom, and bedroom renovations all year-round to give you the home you always dreamed of having.
Give our the team at More For Less Remodeling a call today at (314) 458-5592 to chat through your renovation options.