Originally published 11/28/2018. Last updated 04/03/2023.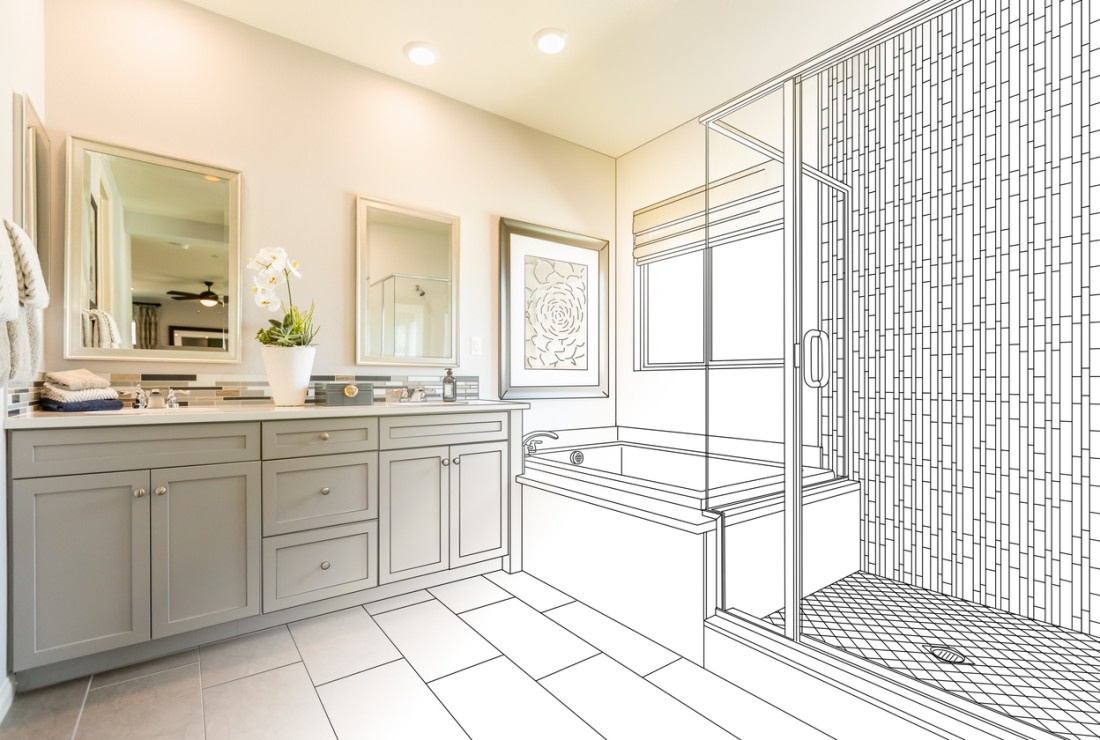 Before embarking on a bathroom remodeling project, preparing your home to minimize disruptions and ensure a smooth renovation process is crucial. Prepping your home involves taking the necessary steps to protect your property, belongings, and family members from potential hazards and inconvenience.
Whether you're planning small or extensive home remodeling, proper preparation can make a significant difference in the outcome of your project.
In this article, we'll explore some essential tips for prepping your home for a bathroom remodel. By following these guidelines, you can achieve your home improvement goals with minimal stress and maximize the value of your investment.
Here are eight things you can do to prepare for your bathroom remodel.
1. Create a Realistic Budget that Accounts for Unexpected Occurrences
Having a well-planned budget is essential for any successful bathroom remodel. Consider all the expenses, including labor and material costs, permits, and a buffer for unforeseen issues. This way, you won't be caught off-guard by unexpected expenses, and you'll be able to manage your finances more efficiently. Additionally, home renovation costs often can be paid with financing options, so ask your remodeling contractor about payment options.
2. Gather Design Inspiration to Achieve Your Dream Bathroom
Before you start home renovation projects, gather inspiration for your design ideas. Create an online scrapbook on Pinterest, a similar site, or a physical scrapbook of remodeling ideas from magazines. Share it with your contractor so they can better understand your style and preferences. This way, they can offer recommendations and create a design that meets your vision.
3. Plan Ahead for Unexpected Glitches
Disruptions are inevitable in any renovation project, and even more so in a single-bathroom home. Plan for potential issues, like plumbing or electrical problems, and make sure your contractor has contingency plans in place. This way, you can minimize delays and ensure your bathroom remodel stays on track.
4. Partner with Your Contractor for Unique Projects
If you have a unique project in mind, like a steam shower or custom tile work, communicate this to your contractor beforehand. They can offer recommendations and guide the design and installation process. This way, you can achieve the bathroom of your dreams without any setbacks or surprises.
5. Choose Appropriate Bathroom Surfaces
When selecting your bathroom surfaces, consider your lifestyle, maintenance needs, and design preferences. Porcelain tiles are low-maintenance, while stone needs to be sealed regularly. If you're planning custom work, such as handmade tiles or a bespoke vanity, order them well in advance to avoid delays in the project timeline.
6. Invest in High-Quality Hardware for Lasting Beauty
Hardware is a small detail that can significantly impact the overall design of your bathroom. Invest in high-quality fixtures that match your style and budget, such as faucets, showerheads, and towel bars. This way, you'll add lasting beauty and functionality to your bathroom.
7. Clear the Space and Prepare for Construction
Before your contractor arrives, clear the bathroom of all objects and remove any rugs or furniture that might obstruct the workspace. This will help your contractor to work more efficiently and minimize potential damage to your belongings.
8. Plan the Traffic Flow to Minimize Disruption
Renovations can disrupt your daily routine, so plan the traffic flow to minimize disruptions. Determine where workers will park, which doors they'll enter through, and where they can eat lunch. This way, you can manage the flow of people in your home and minimize any inconvenience.
Contact More For Less Remodeling Today!
More for Less Remodeling is an innovative approach to bathroom remodeling and home renovation that focuses on achieving maximum results while minimizing costs. By prioritizing efficiency and resourcefulness, More for Less Remodeling can help you get the most out of your renovation budget.
With this approach, your contractor will work with you to identify cost-saving measures, such as reusing existing materials, simplifying the design, or repurposing unused space.
By optimizing the use of resources, you can achieve high-quality results that meet your aesthetic and functional goals without breaking the bank. In addition, More for Less Remodeling can reduce waste and minimize the environmental impact of your renovation project.
So, if you're looking for a cost-effective and sustainable way to remodel your bathroom or renovate your home, consider More for Less Remodeling for your next project.