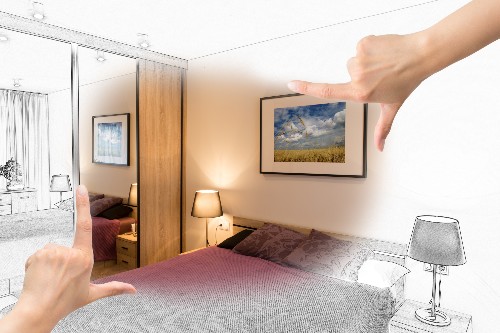 Freshening up a part of your life can give you new energy. If an aspect of your life feels boring or stale, try injecting something new or even a new way of doing something you will continue to do. Spicing things up is a fun activity people often do with their hair, outfits, or where they go out to eat. For a more serious change, consider a remodel of a room in your home.
Switching things up in a room will help adapt the space to your current needs. Your surroundings should grow with you, so they continue responding to your needs. Don't worry about making an expensive change. There are many changes you can make without breaking your savings. Keep reading for our bedroom remodeling ideas on a budget.
1. Add Subtle Floor Lighting
Floor lamps can help create a soft lighting effect in your bedroom. Having lighting at the bottom of your bedroom can create a new ambiance and feel to the space. Experience a warm, calming mood with floor lighting.
2. Paint with a Dark Lacquer
Choose a dark lacquer to paint onto your bookcase. Lift your bookcase to a contemporary, sophisticated tone with this shade.
3. Add a Reading Nook
A cozy reading nook is a nice addition that makes any bookworm's room more of a sanctuary. You could also add a desk so you could comfortably take care of any work when sleep evades you.
4. Take a Photo or Sketch to a New Level
Transform a photo or a family work of art by adding a frame. Placing a frame around your piece elevates its visual importance while protecting the piece from damage.
5. Bring Nature into Your Bedroom with Indoor Plants
Calling all nature lovers! Experience a walk through the wilderness inside with plants around your home. Enjoy the added oxygen and the air-freshening quality of a plant right next to where you sleep. Consider a cactus garden for ease of care or a blooming plant to bring brilliant colors into your room.
6. Bring in More Seating
Try adding a loveseat to your bedroom to add additional seating. Place your loveseat at the end of your bed to create an almost living room section in your bedroom.
For Bigger Changes, Choose a Budget Contractor You Can Trust
If you followed the steps above, you should have a new feeling to your bedroom. If you continue to crave more changes, consider some more serious bedroom remodeling ideas on a budget from a professional contractor like those at More for Less Remodeling. We are a family-owned and operated business that wants to help you get the best out of your home without killing your budget.