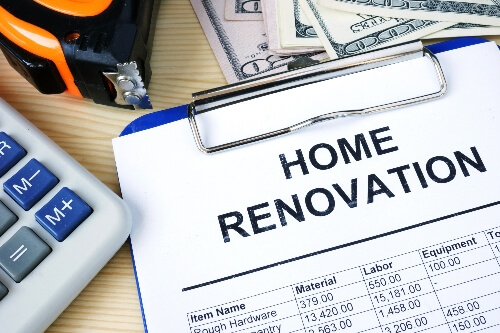 Have you had to put up with rooms or features in your home that just don't work for you and your family but struggled with coming up with enough money for a renovation project?
Don't worry, we have a plan for that.
Home renovation projects are great lifestyle improvements and can increase the value of your home when it comes time to sell. Many first time renovators can quickly get caught up and end up spending way more than they had planned. Here at More for Less Remodeling, we don't like that. Keep reading to learn our tips for setting your home renovation budget so you can be happy with the completed project and the impact on your wallet.
1. Set a Plan
Decide on a plan then stick to it - both parts of that suggestion are easier said than done, but they are both important. The closer you stick to your plan, the less unexpected, last-minute costs you will have. Make a list of your goals for the project then split them into two columns, needs and wants. Decide what you can do now and save the rest for your next project.
2. The Right People Matter
Get the right person on the right job. Going through friends can seem like it would save money, but if a contractor, designer, or laborer doesn't have the experience and skill needed, you may have to repair their mistakes. Do your research on Angie's List or their website and look at the reviews. Similarly…
3. Don't Rush Through the Bidding
Competition means a better option for the homeowner. Get as many bids on your project as you can, try for at least three. Look at the details, such as the timeliness of the contractor and how prepared for the meeting they are. These might seem like they don't matter, but the little behaviors can suggest how a worker will act on the project, helping or hurting your budget and timeline.
4. Set an Upper Limit
Renovating your home can have you feeling like a kid in a candy shop. Keep your limits in mind when setting your plan. A general rule is not to spend more on a room than its value to the home. You can set an overall value for a room based on the square footage of a room set as a percent of the total home's square footage.
5. Activate Your Over-Communicator Mode
Don't worry about annoying your contractor - you are paying good money for this project! Be as upfront about costs and limits then check in with your contractor frequently. The more communication you have, the better everyone understands each other. Less confusion means a smoother, quicker, more positive renovation for all!
Taking the Next Step with Your Home Renovation
The better the plan, the better the project. Once you have your list of trimmed down goals, the hard part is over. Working with professional contractors like those at More For Less Remodeling will help your project stay under budget and on time. Our family-owned and operated business has helped families get the most from their homes for more than 16 years.