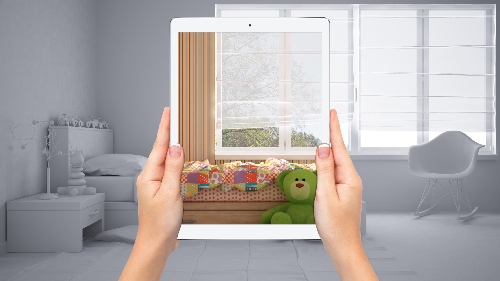 Laying out your home and bedroom can be tough for getting the most out of your space. Combining a relaxed setting with enough efficiency to get to your clothes makes for a good bedroom. It can be even more of a challenge to design or remodel a bedroom for your children. Picking out what will be right for someone else, especially as they get older and their tastes change, can feel like a no-win situation.
Don't worry. Here at More for Less Remodeling, we have seen many different bedroom set-ups for adults, single, and multiple children. Keep reading to get our top suggestions for bedroom remodeling to create a great place for your kids.
Tip #1: Storage They can Reach
No one wants to feel left out. Begin teaching your kids personal responsibility at a young age by keeping storage at their height. Closets, benches, cubbies, shelves, and more help give kids a sense of ownership when they can use them. Bonus: then you can start teaching them to clean their own room!
Tip #2: Add Personal Art and Light
Everyone, but especially kids, love to feel connected to their bedroom by contributing to its style. Many craft stores can help you find nice, kids-friendly glowing paint. Or, you could go for stars or moons on the ceiling. Anything glowing can be a low-key night light for your children. Excite them about turning off the lights and bedtime will never be a struggle again.
Tip #3: Keep Anything Important with Corkboard
Corkboard is great to keep important papers, or for your kids to decorate with their favorite pictures, posters, drawings, or more. The best part is - when their style or interests change, you won't need to remodel the room, you can just untack the old and tack up the new stuff! Art supply stores should have cork boards that you can peel the back and stick right on your kids' wall. Get wild and make the cork into a specific shape!
Tip #4: Your Scenery Can Change Your World
Just as people are affected by the people around them, they are also affected by the scene around them. Posters are nice, but if you have the time, add a painting. Paint a scene on your children's wall to make them enjoy their space that much more — finding a scene of characters from their favorite book, movie, or TV show. For our unartistic friends, there are many stencils you can follow that become a "paint by the numbers" simple project.
Invite Your Kids to Enjoy Their Bedrooms with Expert Remodeling
We hope the advice above will help you set your kids' bedroom(s) up in a fun and functional way. Explore and invite them to be part of the process. When you are ready for expert help in installing a closet, shelving, or doing a more extensive bedroom remodel, consider More for Less Remodeling. Our design and construction teams will help you complete your project staying under your budget.