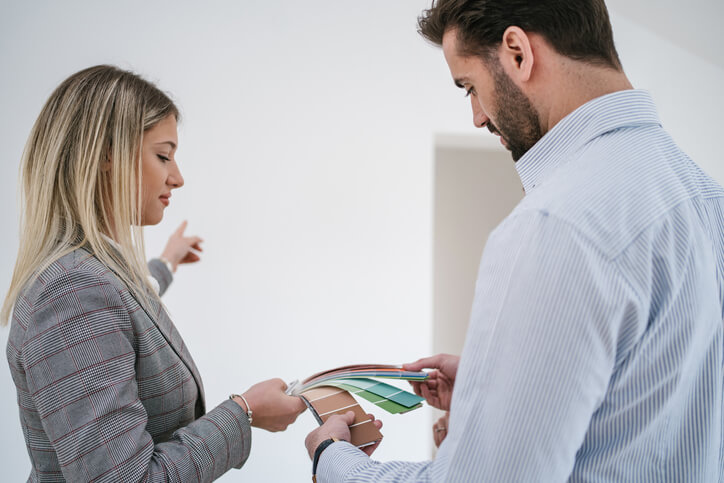 Choosing the right paint color for interior renovations can be difficult. When you do find the coloring that works, your house will begin to feel more like a home. In this article, we'll discuss how to choose the best type of paint for your needs and provide tips on how to get started.
1. Match with Your Furniture
Furniture colors can go from neutral to dark and light, sometimes, both, with wood finishes like oak or pine. Therefore, it is vital to match your walls with your home décor. A good rule of thumb is to have a paint palette with at least three different colors that go well together but are also slightly different from one another, so they can be mixed and combined in many ways throughout the house if desired.
No matter what type of walls you have(metal panels vs. wood boards) or how old your home is (new or remodeled), choosing the suitable paints will help bring out all those details and create a beautiful space where you're proud to live.
2. Choose Based On the Ambiance You Want In Your House
Different colors can drastically affect how people feel. Make sure the color you choose matches the emotions you are trying to evoke. Next, explore Google to find which colors coordinate with which emotions.
For example: if one wants their home to feel warm and cozy, try using earthy tones such as browns, greens, or blues - these colors will make any space seem more inviting and alive! However, if you were looking for a lighter atmosphere, choose whites; this clean tone is perfect for keeping off negative energy while creating a refreshed living space.
3. Stick With Neutrals
There are so many different colors out there and sometimes it can be hard to tell what will work best for your home painting project. Fortunately, sticking with neutrals helps you create balance within your room and makes it easier to decide whether or not the space feels complete in terms of decorations.
If you want something more unique than just black, white, gray, cream, or brown, then go ahead and explore other options like blue and teal, which are in vogue. However, remember, it may take time to figure out which one works best for your house because they all look different based on light sources.
4. Understand Undertones
Undertones are essential when choosing the best paint color for your home. For example, mustard yellow has a tremendous calming effect for bedrooms and living spaces with high ceilings. In contrast, terra cotta brown has an inviting warmth perfect for family rooms and kitchens where people often gather.
Therefore, choose the right undertones early on when developing a color theme and understand what mood you're trying to create through colors. A good starting point would be picking one primary hue - reds, blues, greens - to explore other shades from there.
5. Choose a Color Theme
Choosing a color theme is an essential step in selecting the right paint for your home. You might stick to neutral colors, while others like bright colors or even stencils. Choose which of these best fits what you want and make sure that it complements any other furniture you have in the room.
Get the Remodeling Your Home Needs from Experienced Contractors
Picking the right paint material for your home is a critical step. It can take a room from drab to fab in just one coat! Express your style, feel comfortable, and get what you need from your home with a home remodeling from More for Less Remodeling. Our experienced design and construction crews can help you plan the room you always wanted. Give our team a call today to set an appointment.