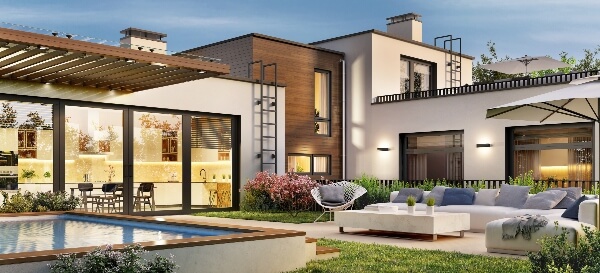 Linking your indoor and outdoor space effectively can help you to create a larger, airier-looking space that incorporates plenty of natural light and nature. By considering the materials and styles you incorporate carefully, you can ensure these areas don't look like separate entities but like one big, beautiful space.
When you have achieved the ideal look for your indoor and outdoor areas, you can enjoy spending the spring and summer days with your doors open, enjoying the views, sunlight, and fresh air. So, what can you do to connect the indoor and outdoor areas in your home effectively?
1. Introduce Sliding Glass Doors/Walls
Introducing sliding glass doors or walls means you can avoid sacrificing your view and ensures you can enjoy your garden year-round. Simply slide open your glass doors and create one large usable space that you enjoy with your loved ones whenever you want to. If it's too cold to keep the doors open, you'll still get the benefit of viewing your beautiful outdoor space as you go about your day.
2. Plan For Temperature Changes
You're probably going to spend more time with your doors open, so ensure you are prepared for changes in temperature. Fireplaces and firepits are one of the most popular home remodeling projects and very easy to incorporate. You'll be able to enjoy your garden living space whatever the temperature.
3. Incorporate Consistent Flooring
Consistent flooring used in your kitchen and outdoor area will ensure a unified look, which will create a space that looks like one rather than two separate spaces. Remodeling contractors will help you to ensure the chosen material is suitable for all weather. Your flooring must be frostproof and slip-resistant to ensure a functional space that still looks great.
4. Create An Outdoor Living Space
Create an outdoor living space, including your furniture, tables, and accessories to ensure you feel right at home out in the open. Remember, any living space you create should flow and give plenty of space for people to navigate and get to where they want to go easily.
5. Provide Shelter Outdoors
Outdoor shelter will help you to protect your guests and furniture from the elements. You can use things like awnings, umbrellas, gazebos, and pergolas for your outdoor living spaces for a chic look that keeps everybody happy.
6. Introduce More Glazing
Introducing more glazing into your home ensures your garden and sky views become part of the room. You can also add roof lights to an existing space to get a wonderful view of the sky.
Contact More For Less Remodelling Today
If you'd like an expert eye and professional advice to help you connect the indoor and outdoor areas of your home, contact More For Less Remodeling today. Our friendly team will ensure less hassle, a quality design, and beautiful results for your home. We hope to hear from you soon!