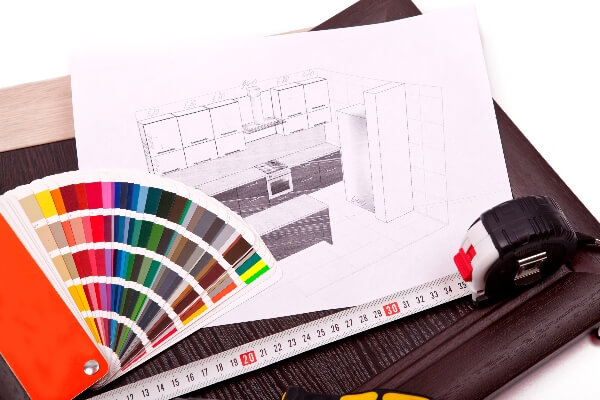 A kitchen can say a lot about the character of your home.
A family will spend a lot of time in their kitchen. From cooking and washing up to hanging out and grabbing a snack, your kitchen serves a big purpose in your family's daily life. Just as you would want the drawers, utensils, and cookware to suit your needs, make sure the color scheme in your kitchen matches your family's tastes. There are many ways to go wrong with color pallets. Keep reading to learn the top dos and don'ts of color schemes in your kitchen design.
The "DO" List of Color Pallet Choices for Your Kitchen Design
DO understand that the best cabinetry and counters look even better with the right color scheme.
DO add coloring to lighting fixtures. No need to go crazy here, but make sure to have at least an accent that responds to your overall color theme.
DO learn the differences between cool and warm colors. Knowing these differences can help you coordinate different features in your kitchen.
DO learn about paint undertones. Avoid issues by learning about undertones in painting before you add any paint to walls.
DO consider adding "chalkboard paint" to your walls or maybe a door. Chalkboard paint is a playful way to add some character to your room, especially good for young children. Don't forget, we are all kids at heart!
The "DON'T" List of Color Pallet Choices for Your Kitchen Design
DON'T hesitate to add some lively, vibrant colors to your kitchen design. Kick those boring gray and white themes for something more exciting if your style is bold!
DON'T avoid gray and an off-blue if that is your style. Some like vibrant colors, others enjoy muted ones. Tap into your unique style.
DON'T stop with just painting your walls and choosing the colors of your countertops and cabinetry. Consider adding colorful linens to your kitchen design. Plus, this is an inexpensive way to add to your theme!
DON'T forget about the rest of your home. A kitchen color scheme works best when it fits into the larger theme of your home.
Work with the Kitchen Design and Construction Experts at More For Less Remodeling
Figuring out the theme of your home and kitchen are the first step to getting the right feel in your home. Once you have that, add to your theme with the color pallet tips from above. Working with design and construction experts like those at More For Less Remodeling can help you get the kitchen that will suit your family's needs and style. Give our team a call today to discuss your project.