Originally published July 25, 2019. Last updated April 30, 2023.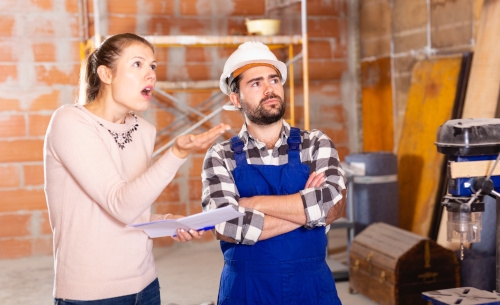 Home renovation and remodeling can be a thrilling yet challenging task. From a living room to a kitchen remodel, jumping right in and ripping out walls and cabinets can be tempting. However, it's important to take a step back and plan out your project carefully.
We have learned a lot on the job in our more than 16 years of experience helping homeowners remodel their rooms. We've seen many of our customers choose our team to correct other contractors' mistakes. By avoiding these common mistakes, you can ensure that your renovation or remodeling project runs smoothly and stays within your budget.
1. Underestimating the Budget
One of the most common mistakes people make when starting a home improvement project is misjudging the cost. It's essential to do your research. Then, create a realistic budget that includes all of the material costs, labor, and other expenses involved in the project. Make sure to leave a little extra cushion in your budget for unexpected expenses that may arise.
Another factor to consider is your project's return on investment (ROI). You may be eager to create your dream home and make your home remodel ideas come to life. However, you must consider whether your investment in the project will pay off in the long run. Research the ROI of similar projects in your area to understand what you can expect.
2. Skipping the Planning Stage
It's easy to get carried away with excitement and jump right into the renovation or remodeling process. However, skipping the planning stage can lead to costly mistakes and delays down the line. Take the time to plan out your project thoroughly. Create a detailed timeline, select materials and finishes, and hire a reputable contractor.
During the planning stage, it's also important to consider any necessary permits or regulations. Depending on the scope of your project, you may need to obtain permits from your local government or comply with certain regulations. Failure to do so can result in fines and delays. At More For Less Remodeling, we take care of all permits for your home renovation project.
3. Overlooking Functionality
While aesthetics are certainly important in a home renovation or remodeling project, it's crucial not to overlook functionality. Consider how you use the space and how you can make it more practical for your needs. For example, if you're remodeling your kitchen, think about the flow of the space and how you can optimize storage and workspace.
It's also important to consider the needs of your family members. If you have young children or elderly relatives, consider including safety features in your design, such as non-slip flooring and grab bars in the bathroom.
4. Choosing the Wrong Remodeling Contractor
Choosing the right home remodeling contractor is key to the success of your renovation or remodeling project. It's important to do your research and select a licensed, insured contractor with a good reputation in the community. Ask for references and check online reviews before making your final decision.
During the hiring process, it's also essential to communicate clearly with your contractor. Make sure you both have a clear understanding of the scope of the project, the timeline, and the budget. It's also a good idea to have a written contract outlining all of these details.
5. Sacrificing Quality for Cost
Finally, one of the biggest mistakes people make in home renovation and remodeling is sacrificing quality for cost. While it's certainly important to stick to your budget, it's also important not to cut corners on quality. Choosing lower-quality materials or hiring an amateur contractor may save you money in the short term. But, it can cost you more in the long run if you need to redo the work or deal with repairs down the line.
Instead, focus on finding ways to save money without sacrificing quality. For example, you could opt for less expensive finishes or appliances that still meet your needs. You could also consider doing some of the work yourself, such as painting or installing fixtures.
Avoid these common mistakes and take a thoughtful, well-planned approach to your home renovation or remodeling project. You can create the home of your dreams without breaking the bank or experiencing unnecessary stress and delays!
Contact More for Less Remodeling Today!
The More For Less Remodeling team has licensed and insured contractors that help bring new opportunities to old homes while protecting you from these mistakes. Explore our project gallery or give us a call today at (314) 458-5592 for a quote on your project.